Alumnae Awards Presentation Assembly 2020
On Monday 19th October, through their annual awards, our alumnae inspired in current Senior School students the wonderful attributes and characteristics that make up our alumnae community.
Every autumn the Royal High School Bath Alumnae Network presents four awards to promote and inspire in current students all the wonderful attributes and characteristics that make up our alumnae community, and it is these characteristics that we refer to when talking about 'RHS spirit'.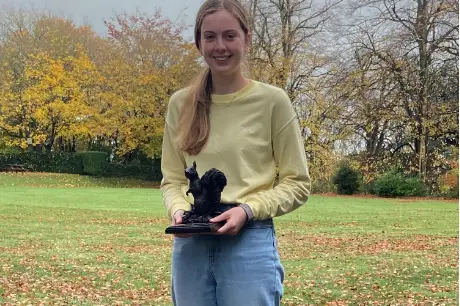 Above

Eloise Evans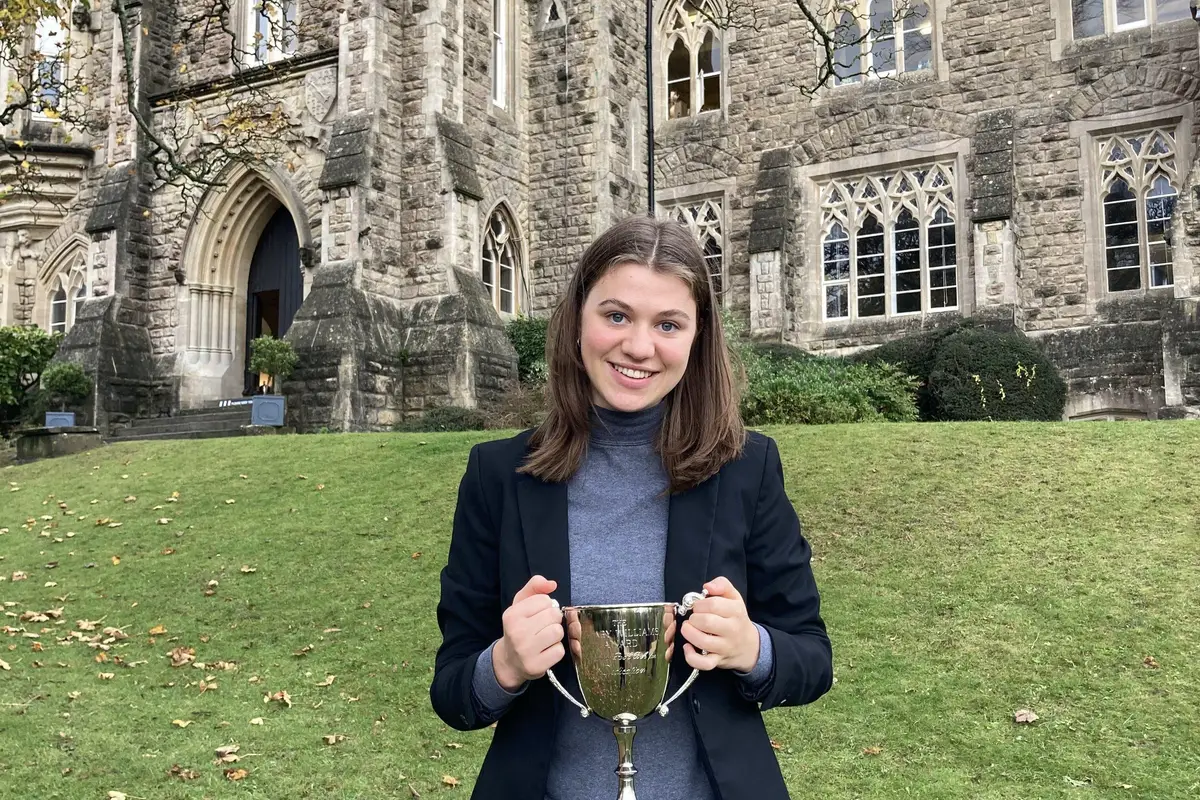 Above

Ellie Webster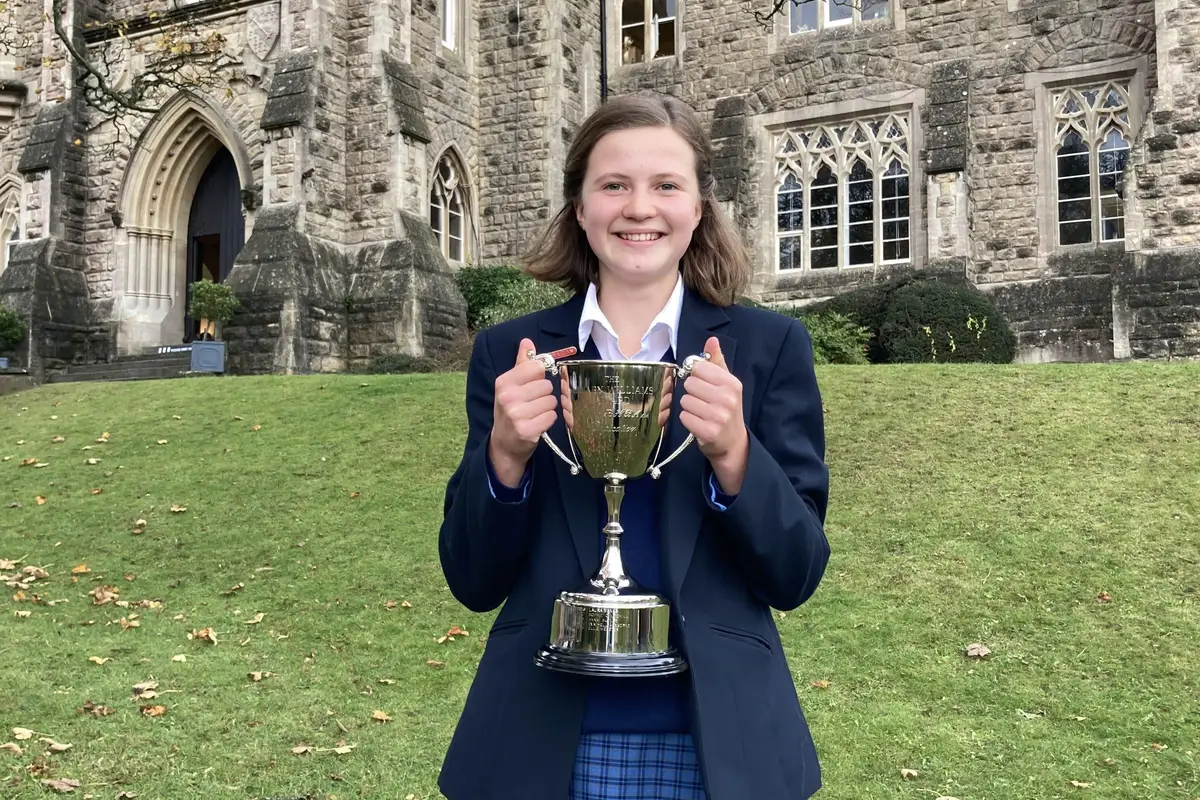 Above

Eva Helly-Osborne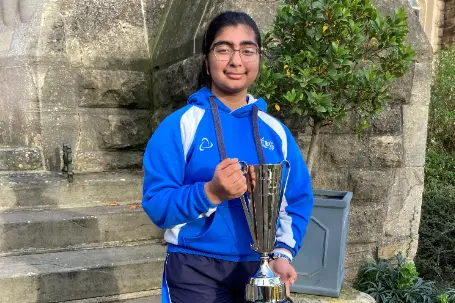 Above

Kashuf Rehman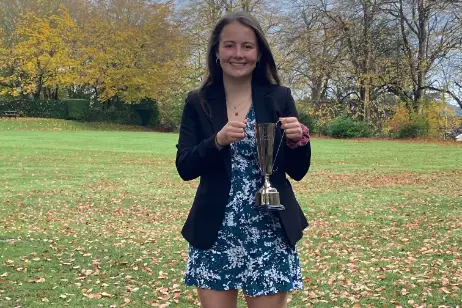 Above

Katy Lohner-Benson
This year we were delighted to be joined online by alumna Jane-Anne Hodgson (BHS 1982), alumna Sarah Dix (RHS 2006), Chair of the Royal High School Bath Alumnae Committee, Mr Richard Hall, Chair of Governors and Mrs Kate Reynolds who kindly presented the following awards, all nominated and voted for by staff from across the school:
The Sarah Williams Red Squirrel Award
The Red Squirrel Award was instigated by a group of Bath High alumnae in memory of their friend, alumna Sarah Williams (BHS 1982), who sadly passed away in 2015 from cancer. The award is given to a girl in Year 8-13 who has shown spirit, courage, support for others, kindness and loyal friendship.
The nominees for the 2020 award were:
Ruby Butterfield, Year 9
Ruby cycled 140 miles Coast to Coast in the North of England over three days during Storm
Ellen, showing tremendous spirit and courage.
Eloise Evans, Year 12
Eloise made a huge number of scrubs and masks during lockdown, leading to the set-up of TeddyandMe, which supplies matching face masks for children and their teddy bears to alleviate anxieties of returning to school after periods of isolation and raising funds for Bristol Children's Hospital Grand Appeal.
Darcy Gresham, Year 13
Darcy is a volunteer swim coach taking two weekly sessions and working with younger volunteers assisting with their Duke of Edinburgh activities, also ran various online activities with junior and Senior squads through lockdown. Considered by Bath Dolphins as 'the glue that glue that is holding the squads together'. Achieved second place in the ASA Somerset Young Volunteer of the Year 2020
Jess Lewis, Year 10
Jess was nominated as an all-round hard-worker, and a good and loyal friend.
After talking a little about Sarah Williams, explaining that Sarah had striking red hair hence the red squirrel, and how she was the inspiration for this award, Jane-Anne Hodgson was delighted to announce that the 2020 winner of the Sarah Williams Red Squirrel Award is Eloise Evans.
The Hilary Williams Award for Dedication
The Hilary Williams cup is awarded to a girl in Year 8-13 in recognition of exceptional dedication in her approach, either to schoolwork and activities or to something extra-curricular.
Hilary Williams attended Bath High from 1948 to 1963, and then studied Psychology at St Mary's College, Durham University. On leaving Durham, knowing only that she wanted to do something fulfilling, challenging and rewarding Hilary embarked on a career which saw her become the first female governor of a male prison and take on senior management roles at companies like Mobil Oil, Hays Consulting, and British Gas. As the most senior female at British Gas at the time, when Hilary was on the cups of being made the first female Director, the business was suddenly restructured, and her promotion vanished. Having successfully sued British Gas and helped change laws regarding discrimination, Hilary went on to become the Chief Executive of Girl Guiding UK and took on numerous media appearances whilst being a member of several women's business networks, holding a non-executive position for Bath's RUH and volunteering at her local guide group in Bath.
Hilary was a hugely committed member of the alumnae committee and was Chair for 15 years. Fiercely loyal to Bath High, she was also incredibly progressive and played a valuable part in ensuring that the alumnae committee from Bath High came with us into the Royal High School as it is today. At her funeral in 2015 she was described as a people-orientated and inspirational leader with vision, who had her feet firmly on the ground and who relished achieving results through others by encouraging, empowering and supporting. Something for us all aspire to.
The nominees for the 2020 award were:
Eva Helly-Osborne, Year 9
Eva was nominated for her exceptional dedication to all areas of school life.
Holly Lancaster, Year 10
Holly is a phenomenal harpist who always works to the best of her ability and is an excellent ambassador for the school, giving her time to support various events.
Lola Record, Year 11
Described as 'does everything', Lola is a dedicated student who throws herself into everything whether it be work, sport or extra-curricular activities.
Eliza Hyde, Year 12
Eliza is an outstandingly committed student, totally exceptional and committed to Medsoc, the Duke of Edinburgh's Award Scheme and the Ten Tors. Eliza won the Bristol University air pollution essay competition.
Honor Weaver, Year 13
Honor was nominated for launching her Near Home website during lockdown to support local growers and producers and her dedication in further developing the project.
Ellie Webster, Year 13
Ellie ran a marathon on her treadmill at home during lockdown raising over £1,300 for British Heart Foundation.
Rania Nasser, Year 13
Rania was nominated for setting up a face mask business in Dar-es-Salaam during lockdown, making and supplying 2000+ masks
Natasha Low, Year 13
Natasha was nominated as a super-dynamic and dedicated member of the boarding community.
Having reminded us Hilary Williams' story, Sarah Dix kindly announced that, having achieved the same number of votes, this year we have two winners of 2020 winner of the Hilary Williams Award for Dedication, Ellie Webster and Eva Helly-Osborne.
Alumnae Network Award for Continued Academic Endeavour
This cup is awarded to a girl in Year 8-11 in recognition of continued academic endeavour and Mr Hall was proud to share that this year there was a particularly strong field of nominees.
The nominees for the 2020 award were:
Kashuf Rehman, Year 9, Annabel Noyce, Year 10 and Helen Rothery, Year 11 who were all nominated as extremely hard working, high achieving and dedicated students as well as Eliza Hyde, Daisy John and Sophia Karakusevic, Year 12, who all achieved a clean sweep of 9s in their GCSEs.
The winner of the 2020 Alumnae Network Award for Continued Academic Endeavour is Kashuf Rehman.
Alumnae Network Junior Cup for Services to the School Community
The Alumnae Network Junior cup is awarded to a girl in Year 12 who is a committed and enthusiastic member of the school community who gives her all and is a role model to others.
Mrs Reynolds reminded us all how important of the strength of our community is, especially in these challenging times, and was delighted to announce the following nominees, and of course the winner:
Kitty Campbell Howard, Year 12
Kitty was nominated as an outstanding role model described as magnificent on last year's Ten Tors.
Ella Condrau, Year 12
Ella was also nominated as an outstanding role model who was magnificent on last year's Ten Tors.
Eloise Evans, Year 12
Eloise was nominated for her community work throughout lockdown, her contribution to a whole school project and running a club for younger students.
Katy Lohner-Benson, Year 12
Katy was nominated for her all-round dedication to Charity, helping at Outreach events, volunteering and sport. Katy encouraged others to do the Park Run last year and ran a half marathon around the RHS site whilst in quarantine raising over £600 for Coeliac UK.
The winner of the 2020 Alumnae Network Junior Cup for Services to the School Community is Katy Lohner-Benson.
Huge congratulations to all our fitting winners and thank you again to our guests for presenting this year's awards. We are of course ever grateful to our alumnae for supporting these awards and look forward to seeing what further exploits they provide inspiration for in the years ahead!