Farewell to our IB cohort of 2021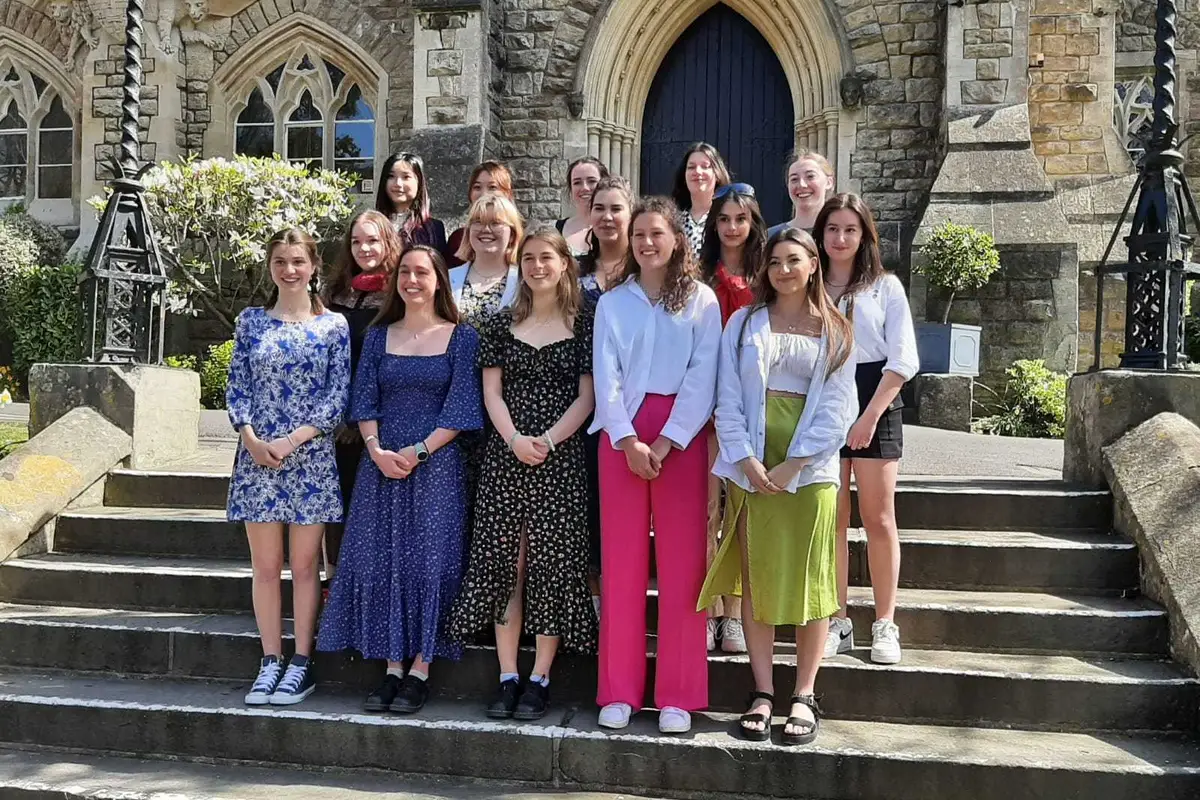 "

"They have dealt with more uncertainty than most young people of their age, and have become remarkably resilient as a result.""

Ms. Jude Taylor, IB coordinator
Friday 23rd April marked the last day for our fantastic Year 13 IB cohort. Congregated on the main front steps for their final school photos, the girls laughed and rejoiced, celebrating their time at the school. The sense of excitement for the future was contagious.
And there was a lot to celebrate. After surviving a pandemic, three lockdowns, IB coursework and exam cancellations, the girls have gone through a lot and at a key point in their academic careers. However, at every stage, they have shown strength of character and resilience. The skills they have developed this year will help them to make every success in their futures.
Ms. Jude Taylor, IB coordinator, said, "They have dealt with more uncertainty than most young people of their age, and have become remarkably resilient as a result. They have been the largest Royal High School IB cohort and have shone brightly throughout the school. I know I speak on behalf of all the teaching staff when I say that we will truly miss them."
Mr. Nick Hayward, Head of Sixth Form, said: "I simply want to pay tribute to the most remarkable group of girls who have shown such extraordinary levels of resilience, spirit, verve and energy while in the Sixth Form. If in my wildest imaginings I sometimes believe the initials IB stand for 'Incredibly Brilliant' or 'Irrepressibly Bubbly' or just 'Indelibly Boisterous', it comes from being among such amazing girls. The IB is a testing qualification and does demand a great deal from those who do it, and doubly so under Covid and lockdowns. But the rewards are immeasurable, of course, and it has been an undiluted joy watching the IB girls grow academically, develop in confidence and flourish in all the myriad ways that the IB unlocks. I know they will thrive in whatever they attempt and wish them every success in the future."
Did you know Royal High School Bath is the only school in the local Bath area to offer the coveted International Baccalaureate diploma programme? We were recently ranked a 'Top 50 Global IB School' (out of approximately 3020) and a 'Top 20 IB School in the UK' (out of about 130) for our 2020 results by Education Advisors. We achieved an average point score per student of 38.6 (while the global average was 31.4).
The IB diploma is an internationally recognised qualification for 16–19 year olds that develop students to have an excellent breadth and depth of knowledge, and who can flourish personally, academically and professionally. The beauty of the IB is that it offers students a richer tapestry of six subjects, as well as a focus on citizenship, activity, community action and theories of knowledge.

In recent research, IB diploma students were three times more likely to enrol in a top 20 higher education institution (HEI) in the UK compared to matched A level students, and were 40% more likely to obtain a first or upper second-class honours degree compared to matched A level students.
If you would like to find out more about our Royal High School IB diploma programme, click here.